The Ultimate Guide For Black Friday Bargins
November 22, 2017 by Alannah Kenny
Calling all Irish bargain hunters, the 2017 Black Friday sales are almost upon us! Yes, it's that time of year when people worldwide go absolutely bonkers over a kettle in a shopping haze that makes 'The Walking Dead' zombies look tame. On Friday November 24th, expect large crowds of people scrambling to get that 20% deal with many major retailers taking part.
What is Black Friday?
So who are we to blame for this shopping madness that has seemingly gripped the nation over the past few years? Well the earliest usage of the term dates back to Philadelphia in the 1960's. Back then, shopkeepers suddenly went from being 'in the red' to 'in the black' on the day after Thanksgiving. The discounts and bargains themselves have been occurring in the US after Thanksgiving since the 1950's. In the UK, Black Friday kick-started predominantly in 2013 and it has been growing there and in Ireland ever since.
Black Friday 2016 in Numbers
Last year saw another rise in online buying in Ireland since the days of the recession. The Central Statistics Office calculated an increase in spending of 9.3% when compared with Black Friday 2015 and 68% higher sales than a regular shopping day. Electrical goods and toys were the top items snapped up on the day.
For those of you looking to avoid the madness that comes with Black Friday deals, then you really are in the right place. We've hand-picked ten fantastic gifts to help you get some early deals so you don't have to waste hours looking for bargains. There are a range of ideas for men, women, kids, outdoor enthusiasts and techys so let's get straight into it.
Black Friday Bargins – 
Outdoor Products
If you're looking for a bargin that you can make use of outdoors, then we have the perfect bargains.
Fitbit Charge 2 Activity Fitness Tracker
The Fitbit Charge 2 would be a great investment for anyone who tries to monitor their fitness level whilst exercising. This slick digital smartwatch is designed to monitor your heart-rate while you run or exercise in the gym. It has a steel body, a large screen that displays your body stats, the time and multi-coloured wrist-straps that can be easily removed and swapped. The battery life can last for 5 days and the watch is programmed to work alongside a free meditation app as an added bonus.
Price: Was €159.99, Now €139.99 (Save €20)
Where: DID Electrical
Lay-Z-Spa Vegas Pool Hot Tub
If you're looking for a more relaxing outdoor gem at a bargain price then look no further than the Lay-Z-Spa inflatable hot tub pool which has seen a massive price drop ahead of Black Friday. The pool can be set up in just 10 minutes with an inflatable pump and you can have a relaxing hot tub experience at a fraction of the price of a non-inflatable pool. The hot tub features a built in 'AirJet' or 'HydroJet' massage system and a digital control pump can heat the water up to 40°C. Imagine all of this in the comfort of your own surroundings, bliss!
Price: Was €789.99, Now €354.99 (Save €435.00)
Where: Littlewoods Ireland
Black Friday – Tech Bargins
All tech fans are guaranteed to get some great bargains on high price gadgets with these offers!
Kindle Paperwhite E-Reader
If you are an avid reader and are looking for a compact e-reader to carry with you on the go, then Amazon has a great Black Friday special for online orders. The Kindle Paperwhite is named so because it is exceptionally lightweight and can be held in one hand effortlessly. The screen is sharp and designed for maximum comfort when reading. One useful added feature is the ability to highlight quotes and write notes in the margins. It also contains a built-in dictionary and the ability to connect to your social media accounts. The beauty is that Amazon UK delivers free to the Republic of Ireland meaning savings are to be made all-round.
Price: Was £109.99, Now £79.99 (Save £30)
Where: Amazon UK
Lenovo Yoga Tab 3
A great gift for TV and movie lovers, the Lenovo Yoga Tab 3 is designed like a mini television with a built in stand that allows you to watch quality videos anywhere at any time. The battery life stretches for up to 8 hours and some of the cool features included are a 180° rotatable camera and Dolby Atmos speakers which provide a crisp surround sound. On top of this, the tablet includes 16GB storage and you can use it for general surfing the web too.
Price: Was €269.99, Now €199.99 (Save €70.00)
Where: DID Electrical
Black Friday – Bargins for Women
For any ladies looking to snap up a good deal or two during the sales, we found a few must have items to watch out for!
Obsession Ultimate Marble Brush Set
We are always in search of the best quality products when it comes to make-up and application accessories. This marble brush set for applying foundation, eyeshadow, etc. is the ultimate survival kit when it comes to brush maintenance and sanitary. Firstly, the design of each brush is uniquely shaped with fine synthetic hairs that adapt to the shape of the face. The marble handle finish is a nice touch and the set also comes with two blending sponges and brush cleaner which you can carry on the go!
Price: Was €74.00, Now €37.00 (Save €37.00)
Where: Boots Stores Nationwide
Bondi Sands Tan & Erase Gift Set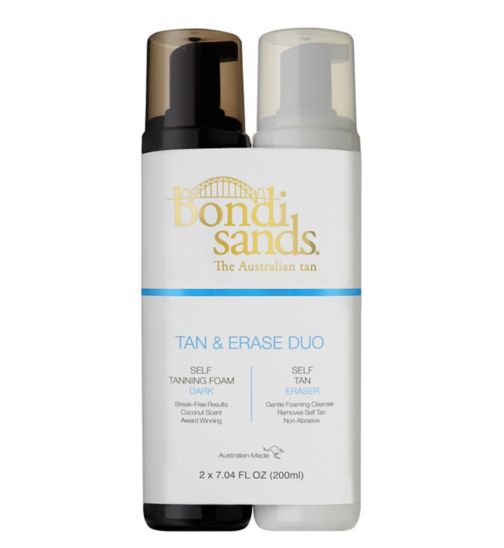 If you can't go on a night out without hiding a pale complexion, then you will love the Bondi Sands Tan half price bargain. This gift set comes with two containers; one is the self-tan foam which claims to give a rich, golden colour just like if you were abroad. The second container includes a foam for tan erasure should any mistakes occur in the self-tanning process that need to be undone immediately. What more could you ask for from a tan!
Price: Was €35.99, Now €17.99 (Save €18.00)
Where: Boots Stores Nationwide
Black Friday – Bargins for Men
Ladies of course aren't the only ones who enjoy hunting for discount deals, there are plenty of items with price drops that the lads will want to snatch up too.
BaByliss for Men Titanium Nitride Clipper
With so many Irish men jumping on the hipster beard bandwagon, it's inevitable that they will need to keep them maintained and take control of their personal grooming. This advanced titanium nitride blade technology ensures exceptional cutting performance for a variety of styles. The device is cordless with a battery life of up to 80 minutes and requires charging for up to three hours. Some handy accessories also included are a cleaning brush, oil and a storage case. Now you can try out a professional barber look at home when you want to keep that groomed look.
Price: Was €79.99, Now €39.99 (Save €40.00)
Where: Littlewoods Ireland
Calvin Klein Contradiction for Men 100ml EDT
For lads who want to smell fresh on the run up to Christmas, there is a great deal to be had with this Calvin Klein Eau De Toilette aftershave. The aftershave combines a mixture of spices and scents of lavender, nutmeg etc. The aroma also has the signature earthy smell that Calvin Klein fragrances are known for. The design of the bottle is simple, metallic and comes in a stylish presentation box so as a gift, it certainly looks the part.
Price: Was €59.99, Now €27.99 (Save €32.00)
Where: Littlewoods Ireland
Black Friday – Bargins For Kids

Last but not least, there a couple of great items at a reasonable price that the kids will enjoy if it just so happens to be on Santa's list or a potential birthday surprise.
Sky Viper Stunt Drone
This is an exciting gadget that is suitable for ages 12 and up that allows children to play with a child-friendly remote controlled drone. It is easy to control and can fly with speeds of up to 20mph and conduct eight different aerial stunts including flips, barrel rolls and spins. It has auto take-off and hover features and also comes with a controller, charger and replacement blades. It is recommended for outdoor use primarily, a very valid excuse to get them outdoors and running around.
Price: Was €76.99, Now €52.99 (Save €24.00)
Where: Littlewoods Ireland
PlayStation 4 VR Worlds Bundle
Kids will definitely enjoy this bargain bundle but equally many adults will too. With this great limited price, those who own a PlayStation 4 console can get a great deal with this new Virtual Reality package. When you purchase this set you get a PlayStation VR Headset and camera along with the PlayStation Worlds game too. It's a must have accessory for any gaming enthusiast.
Price: Altogether priced at €390, a saving of €160 if buying everything separately.
Where: Amazon
With time ticking on it's best to plan ahead with what you want before racing into the chaos of the biggest shopping spree of the year. For those who would rather not risk it, it might be better to wait until Cyber Monday instead!
Tags:
BaByliss
,
Black Friday 2017
,
Bondi Sands Tan
,
Calvin Klein
,
Fitbit Charge 2
,
Gaming
,
Gift Guide For Black Friday 2017
,
Gifts for Men
,
grooming
,
Kindle
,
Lay-Z-Spa Vegas Pool Hot Tub
,
Lenovo Yoga Tab 3
,
Obsession Ultimate Marble Brush Set
,
PlayStation 4 VR Worlds
,
Sky Viper Stunt Drone
,
tech gear
,
Tech Tools
,
Top Gadgets For This Christmas
,
VR Headset
,
xmas gifts