Web Summit 2016 – Bigger or Better?
November 11, 2016 by Geoff Dorrity
The 2016 Web Summit has finished and the dust is just about settling on what is largely considered to be the years biggest annual tech conference around the world. The event, now in its seventh year has been referred to as the "Glastonbury for geeks", boasted a powerful lineup of sports stars and celebrities from Ronaldinho to Joseph Gordon-Levitt. As you can imagine, an event of this magnitude has developed quite the fan base with over 53,000 attendees represented by 15,000 companies, all of this proving that the Summit has come a long way from its humble beginnings of 400 attendees in Dublin back in 2010.
So Why The Switch?
In September 2015 Web Summit co-founder and CEO Paddy Cosgrave made the announcement that the Internet Technology event would be moving to Lisbon for 3 years. It was a decision that received a national backlash and was well covered in the media after emails between organisers and the Irish Government were leaked which covered issues such as transportation, hotel costs and general infrastructure problems in Dublin.
After confirming that the Summit would happen in Portugal, Cosgrave went on record to state that a "cosmopolitan city with better infrastructure conditions and a larger number of hotel rooms" were the main drivers behind the decision.
What Has Changed?

The new venue is perhaps the most impressive change following the move of the Summit from Dublin to Lisbon. The MEO Feira Internacional de Lisboa is a massive stadium sized venue that can hold up to 80,000 attendees, a feat that Cosgrave himself says he hopes to achieve for the 2017 Web Summit.
Sticking with scale, the event has grown exponentially. Officials from the Summit have confirmed that approximately 67,000 unique devices connected to the wifi system this year, with 20 terabytes of actual downloads – ten times the traffic of 2015. Other changes have come in the form of demographics, with twice the number of female attendees than in 2015 representing 42% of the total delegates in Lisbon.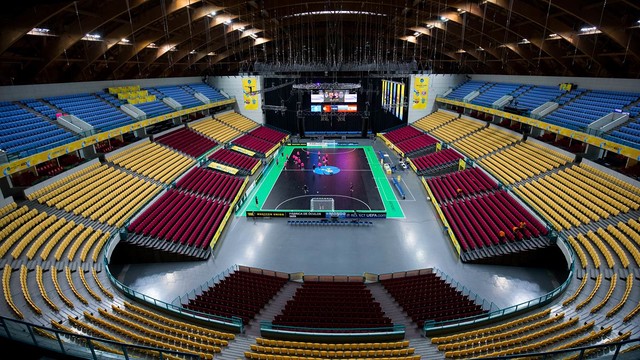 Who Made Headlines? 
In terms of high profile speakers, the Summit pulled no punches this year. From the tech world, big names on centre stage included Cisco's US Executive Chairman, John Chambers, US Co-Founder & CEO of Tinder, Sean Rad, US CFO of Square, Sarah Friar as well as the US Chief Technology Officer of Facebook, Mike Schroepfer. A few other notables included Founder of HitRECord, Joseph Gordon-Levitt, Youtube Superstar Meredith Foster and former footballers Ronaldinho, an investor at Zoome and Figo, Co-Founder of Dream Football.
Aside from all of the top speakers that many of us will be fairly familiar with, one name that will not be forgotten in a hurry is that of Dave McClure, an entrepreneur who is known for his business 500 Startups, as well as his super angel investor status. On this occasion however, attendees of the tech show will be remembering Dave for very different reasons as he furiously reacted to the news that Donald Trump had been named president elect of the United States. While some found the outburst to be offensive, none who attended will forget his razor sharp response to CNN host Laurie Segal, "What do you mean bring it back to technology? This is the whole of f***ing humanity!". See the clip in full below;
What the People and Social Are Saying

One of the few issues, albeit a big one, which seemed to ring through for attendees at the 2016 edition of the event centered around the main arena quickly reaching capacity levels. While the Summit made sure to warn attendees that they would need to arrive early to be guaranteed a seat, many were not pleased after paying for an event that they could not see up close in person and instead had to opt for screen projections outside the main arena. Still however, a general feeling of improvement has been shared amongst the vast majority of attendee's on social networks, many of which took part in the traditional Pub Summit, as seen below.
Looking at the overall picture, Web Summit 2016 seems to have gone down as one of the most successful editions in the events history and while definitely bigger than Dublin we are unsure yet if the event could be described as better (no excuses for all at thesharpe.com being a tad biased and patriotic on this one!). Given that the Summit is estimated to be worth €200m to Lisbon's economy we can assume that Portuguese officials will do everything in their power to keep it around for as long as possible. Who knows though, after it has fully earned its stripes overseas maybe we will see a romantic return to Dublin for its 10 year anniversary, only time will tell.