Manscaping… Should I?
June 24, 2017 by Dean Fitzgerald
Firstly, before we even start, what an odd question to be asking yourself. Do you not have more important things to be doing than worrying about shaving your balls? How did the title make you believe 'yep, this is the article for me'? If that's the big thing stuck in your mind, you're either extremely lucky that this is a genuinely significant and prime problem in your life, or you've lost all sense of priorities and this is just a way of hiding from real responsibilities. My guess is the second one.
I'm right, aren't I?
Moving swiftly along, for those of you who did not click to read this as a joke, there are plenty of things to consider if you are genuinely in a dilemma as to whether to shave your genitals. Here are a few benefits and downsides, and some tips along the way.
What Are The Benefits?
It looks better
This is a benefit both for you and for any prospective partner you may have in the future. By removing your curly hairs, your 'junk' will look far more aesthetically pleasing, possibly garnering more attraction from your partner. Clearing the foliage to make the tree look bigger is a solid tactic for those looking to increase size advantage, or lessen a disadvantage. Without the obstruction of hair, the entire will look cleaner, more approachable (if you know what I mean), and just more like someone who takes care of themselves. Speaking of which…
It looks more hygienic
By making the surrounding area look cleaner, it gives the impression of being more hygienic. The absence of hair in the area will come off as being related to someone who is acutely aware of their body hair and hygiene, which naturally tends to work in your favour.
It's so goddamn smooth
Have you ever felt it after shaving? That feeling of completely smooth skin is an absolute godsend. That alone can vindicate the decision to shave.
It looks bigger
You know exactly what this means.
What Are The Downsides?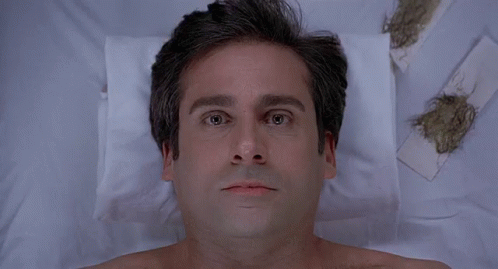 It ends up being less hygienic
Despite the earlier section of this article, shaving pubic hair is less hygienic than removing or trimming. Pubic hair can protect against infections and bacteria, as it gets caught in the hairs and can't approach the genitalia themselves.
Cutting
The ultimate risk of shaving, whether it's face, body, or balls. Cutting your pubic area while shaving, much like being struck in the area, faces far greater consequences than regular cutting, as you are constantly conscious of the area for the next while. It's not as if there's an alternative like waxing. I mean, imagine waxing your balls. Stomach churning to think of for men all over the world.
The prickly hairs as it grows back
These are bloody well annoying, aren't they? They itch, they feel scratchy, it starts to redden a bit, and if you cut yourself it begins to look like a horror show pretty sharpish. Additionally, you can feel it graining against your clothes, creating a sense of paranoia that you may reach down to fix yourself in public, therefore receiving the ire and disgust of the outside world. Or someone will briefly look at you with a mildly disgusted face and turn away, we know exactly what they're thinking.
Being Careful = Key
It's really a personal choice, shaving. If you do decide to shave your pubic hair, be sure to use a decent razor, whether electric or manual, and be extremely careful when in the process of the shave itself. Once you get the hang of it, then it'll become a walk in the park (purely metaphorical, please do not shave your genitals in a park). Make sure not to be complacent, though. Wouldn't want to be getting cocky.
What?
You knew there'd have to be a dick joke in there somewhere.
Can relate any life problems back to GAA. Has an interest in sport of all kinds, including even cricket for some reason.
Comments are closed.