7 Wonderfully Unique Irish Cinemas That You Need to Experience
November 17, 2017 by Alannah Kenny
Film aficionados brace yourselves, as one of Ireland's oldest cinemas is officially up and running again after 13 years of closure. The Stella Theatre was first established in 1923 and eventually closed in 2004 after 81 years in operation. This two-screen cinema was sold at auction and restoration work was conducted after 2015.
Finally, the finished luxury cinema was unveiled on October 31st, where you can now go and see an upcoming blockbuster or even sip a cocktail or two! Thankfully though, there are plenty more unique Irish cinemas just waiting to be discovered. So if you are planning a trip to the movies soon, keep in mind some of these similar national treasures!
7) Dunamaise Arts Centre
With Christmas right around the corner, Dunamaise Arts Centre is already preparing for its festive cinema showings. The centre itself opened in May 1999 and can seat up to 238 people in its main theatre section. The centre's cinema shows mainly classics and independent films and it usually has great thematic showings for different occasions. Lots of the films shown here are family-oriented and this cinema unlike more mainstream venues, does not stay open beyond 6pm.
Many different events are also held here including local theatrical productions, comedy and music gigs and various workshops as well. Cinema tickets are reasonably priced at no more than €8.00 which is an added bonus if you want to for a nice family day out.
Location: Church Street, Portlaoise, Co. Laois.
Further Details: http://www.dunamaise.ie/
6) The Phoenix Cinema
A building with a fascinating past, the Phoenix Cinema in Co. Kerry has stood the test of time and is worth witnessing in the flesh. This venue stands impressively as one of the oldest single-screen cinemas in Ireland having been established in 1918, two years following the Easter Rising. After a fire broke out which destroyed the cinema, refurbishments took place in 1938 and the Phoenix Cinema as we know it was born. It is family-run and can seat up to 150 people.
https://www.instagram.com/p/BSNxrAZj8O7/
As an independent cinema, the Phoenix schedules many of the upcoming anticipated Hollywood feature films. But it also hosts its own 'Art Film' night with tea and biscuits every Tuesday. As supporters of some of Kerry's biggest arts festivals, this event is designed to give independent and foreign-language films a much needed platform to showcase their talent and it won't break the bank either!
Location: Dykegate Lane, Dingle, Co. Kerry.
Further Details: http://www.dinglecinema.com
5) Triskel Arts Centre
There couldn't be a more perfect example of old and contemporary combined than the cinema at Triskel Arts Centre. The centre was founded in 1978 but was linked to Triskel's Christchurch in 2009 which underwent restoration. From there, the church was developed into one of the country's most unique independent cinemas. Triskel specialises in specific screening events such as showings of short features, documentaries, independent films along with foreign language films and some movie classics.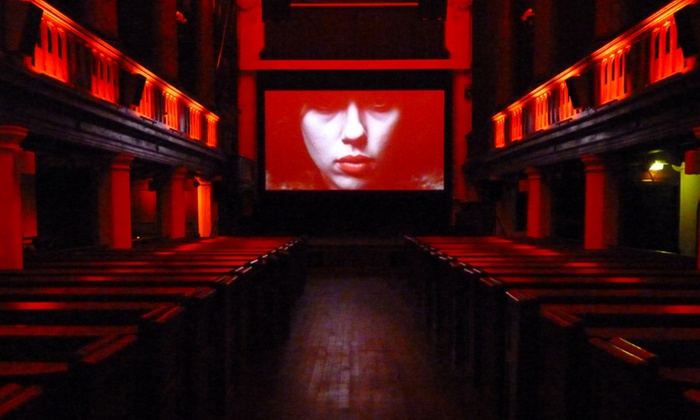 Triskel is never short on a live music event or two and it often hosts some thematic events such as culture nights.The bespoke venue also held events at the 2017 Cork World Book Festival which we took a trip down to earlier this year. So if you're in the Rebel County and looking for something different to see with your friends or your partner, then this could be just the setting required. Ticket prices usually stay below €10, so no excuses if you're looking for a good bargain!
Location: Tobin Street, Co. Cork
Further Details: http://triskelartscentre.ie/
4) Meeting House Square
You won't get a more European cinema experience than an outdoor cinema right in the heart of our fair city. Meeting House Square is the perfect place for a casual chin wag with friends under Ireland's only retractable roof canopies. They even provide blankets and sofas to provide a really homely viewing experience. The area itself was developed in 1991 but was fully completed as an outdoor, sheltered room in 2004.
Many different events are held at the multi-purpose venue, ranging from small gigs to food markets but now and again they will host cinema days where they show a lovable classic movie like Big. The best part is that these cinema screening are usually free and you can bring your own snacks, so keep your eyes peeled for their next showing!
Location: Temple Bar, Co. Dublin
Further Details: http://www.meetinghousesquare.ie/
3) Light House Cinema
As one the main hosts of the annual Dublin International Film Festival, the Light House is arguably one of the most prestigious and well-established cinemas in the whole of Ireland. The original cinema was built in 1988 on Middle Abbey Street but was moved to Smithfield in 2008 and it is one of the most contemporary designed independent Irish cinemas.T
The Light House briefly closed following the economic crash in 2011 but was reopened in 2012 and has since been thriving. It caters for almost any type of screening be it a new Hollywood blockbuster, cultural and independent films or old time classics. It's also a hub for many fun events on the side such as book clubs, quiz nights and multiple thematic events like 'Anime Season'. Ticket prices are between the usual range from €6 to €10 and offer some serious bang for your buck.
Location: Smithfield, Co. Dublin.
Further Details: https://lighthousecinema.ie/
2) Ashford Castle Cinema
If you are lucky enough to ever experience a stay in the regale Ashford Castle, then their 32-seat residents' cinema will make you feel like a movie star. Constructed in 1228, the castle is now a popular 5 Star hotel which has hosted many high ranking guests including President Ronald Regan, Maureen O'Hara, John Wayne and recently, Rory McIlroy's wedding.
Members of the public can visit the castle grounds for an entrance fee of €10 per adult/ €5 per child and participate in day activities for an extra cost. The cinema is of a luxurious style modelled from the 1950's with red leather armchairs and vintage movie posters. It screens two popular classics a day with a children's matinee on Sundays. Snacks and beverages are provided in this hidden gem and private/ corporate screenings also take place here.
Location: Ashford Castle, Co. Mayo
Further Details: https://www.ashfordcastle.com/activities/the-cinema
1) The Movie Junction Drive-In Cinema
If there was a prize for Ireland's most unique cinema, it would most likely go to the Movie Junction Drive-In cinema. The Movie Junction just so happens to be the only drive-in cinema across Ireland and the UK and one of two drive-in cinemas in the whole of Europe. Established in November 2010, the aim of constructing this two-screen cinema was to allow people a more relaxed cinema experience. You simply purchase a ticket for the amount of passengers, find a parking space with a good view and the sound is transmitted through your car radio.
They have the same tasty treats as a regular cinema and they also have an arrangement with Four Star Pizza Middleton for hot food deliveries. The weather won't put a dampener on things as there are canopies to protect cars from the rain and for a €10 deposit, in the cold winter months they will even provide a heater/demister for your car! The ticket prices are quite reasonable at no more than €7 per person with great price packages available for those wanting a 1950's- style cinema experience under the stars.
Location: Fota Island Retail Park, Cork
Further Details: http://www.moviejunction.ie/
With Stella cinema comes a great reminder of how versatile Ireland's cinemas can be from your regular haunt as they try to cater for a wide range of people and prices. If you're a big movie fan then don't miss out on an opportunity to visit some of our more elaborate cinematic hotspots next time!
Interested in big events and likes to keep up to date with celebrity culture as a personal interest. An avid reader and movie lover, enjoys in depth discussions about anything related to dystopian fiction!