What Does the Future Hold for Brock Lesnar in WWE?
October 1, 2017 by Evan Coughlan
Believe it or not it has now been over five years since Brock Lesnar returned to WWE the night after Wrestlemania 28. In that time, Lesnar has had one of the greatest runs in pro wrestling history, of course this is helped by the fact that he doesn't work every single pay per view and only ever appears on a few episodes of Raw in the lead up to a PPV. Lesnar remains an enigma in the WWE, fans are still unsure if they should boo or cheer the Minnesota native and lately they have been quite underwhelmed by his WWE Universal title defences.
With Lesnar's WWE contract up after Wrestlemania 34 next April and The Beast Incarnate having recently turned 40, what does the future hold for Brock Lesnar in WWE, well we here at TheSharpe are here to go through what that might be.
Lesnar Signs a New Deal With WWE
Brock Lesnar turned 40 this past summer, when most professional wrestlers hit 40 they start slowing down after years and years of putting their bodies through extreme bumps and beat downs. Just take a look at John Cena, after a decade plus of wrestling a few nights a week for WWE, Cena has noticed his body is staring to slow down and is rightly reducing his schedule for his long term health.
Brock Lesnar on the other hand, walked away from wrestling for eight years from 2004 to 2012, and since he came back he has wrestled only 40 times for WWE over a five year period. Lesnar doesn't have to worry about his body breaking down on his latest contract and could easily work his current schedule for one more three year period.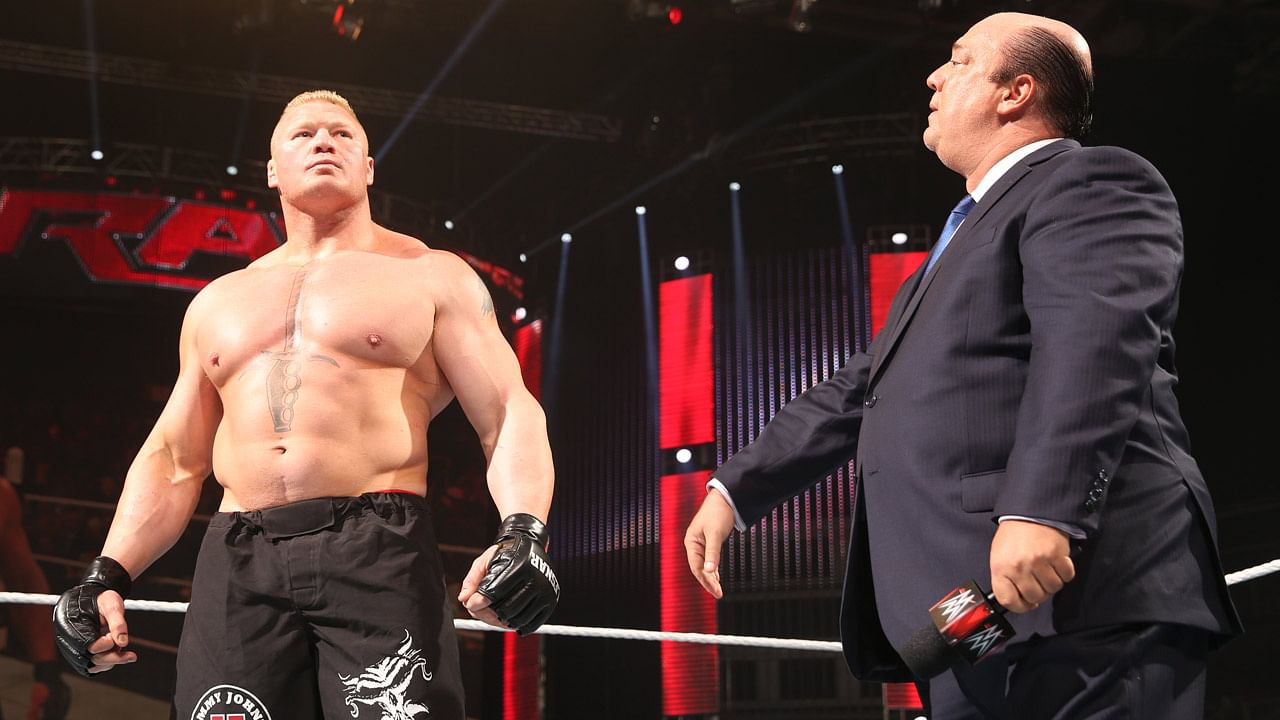 Of course, if WWE do want to get Brock on a new deal they will have to do a couple of things to ensure he stays with the McMahon juggernaut.
1) More Money – Brock is a smart business man and has earned tens of millions since returning to WWE. His earnings in 2016 were believed to be in the region of a whopping $12 million. If Brock is going to resign with WWE, then he is going to want a raise on that current figure to stick around.
2) WWE gives him interesting storylines and opponents – From listening to interviews with his advocate Paul Heyman, it would seem that Brock doesn't really care what he does in WWE as long as he gets paid handsomely for it. However, Lesnar knows to get the most money out of his name, he needs to be in interesting storylines with opponents that are considered a threat to his dominance. On the current roster, some names Lesnar hasn't faced in a one on one match include Ireland's very own Finn Balor, AJ Styles and Kevin Owens. A feud with any of these three big names would be an intriguing match-up for Lesnar. If Lesnar decides to hanf around, it will most definitely be his last contract with Vince McMahon. What better way to go out than having amazing matches with younger guys on the roster, as Brock elevates their star power for the future.
Brock Retires and Heads Back to Farmlife
From listening to Stone Cold Steve Austin's podcast over the years, you get the impression from Stone Cold that Brock would much rather spend time hunting and fishing on his farm in rural Saskatchewan than getting in a WWE ring. Lesnar rarely gives interviews and when he does he never goes into detail about his home life. So this is pieced together from conversations that Paul Heyman and Stone Cold, two of Lesnar's closest friends in the wrestling industry have had on Stone Cold's podcast.
Both say that Lesnar has stayed true to his farming roots and that once he is officially retired, be it MMA or WWE, we will only ever see Lesnar in public on rare occasions. Lesnar's home is believed to be a purpose built mansion somewhere in the woods of Saskatchewan, Canada. Lesnar is happily married to former WWE diva Sable with whom he has two young children. His net worth is believed to be in the region of $22 million, and according to Heyman, Lesnar is a minimalist who rarely spends his money. Therefore I don't think he'll be hitting the credit union looking for a loan anytime soon.
A Return To The UFC
Brock's history in MMA and in the UFC is long and eventful to say the least. Brock Lesnar was a former UFC Heavyweight Champion for nearly two years and had seemingly retired from the world of MMA in 2011 after struggling with diverticulitis. Lesnar then made his return to WWE in 2012. After toying with the idea of re-signing for UFC, he ultimatley decided to stick with the WWE in March 2015.
Then in the summer of 2016, in one of the biggest shocks in UFC and WWE history, it was announced that Brock Lesnar would be returning to MMA at UFC 200. Lesnar won his fight against Mark Hunt by decision. Later Lesnar failed a drugs test and the fight was overturned to a no-contest. In late 2016, Lesnar was fined $250,000 and suspended for one year by the Nevada State Athletic Commission. In February of this year, Lesnar then informed the UFC he was retired for good.
Now Lesnar's latest retirement from the Octagon seems to be another hollow retirement. It was reported during the summer that Lesnar had re-entered the drug-testing pool to be eligible for a return to the Octagon in 2018. Although all of this has been denied by Dana White, who has stated that Lesnar is retired from MMA, but don't take his word as gospel.
Lesnar had also been in a war of words with former UFC Lightweight Champion Jon Jones, with both men calling each other out, in what many would consider a dream fight. That fight probably won't happen now due to Jones failed drug test after UFC 214. However, Jones did give an interesting quote during his brief war of words with The Beast, stating that Lesnar could be using a dream fight with Jones as leverage in negotiations with WWE over a new contract.
The Future is Obvious, Isn't it?
The quote from Jon Jones could be completely untrue. But what if he did indeed have some inside knowledge that Lesnar is renegotiating his deal with WWE. Then it would seem far more plausible that Lesnar is only angling for a UFC return to get more money out of Vince McMahon. Brock done it the last time his WWE contract was coming up so why not try it again. It seems only fitting now to take a trip down memory lane and see how Lesnar made such an name for himself in WWE.
Looking at the three options, it would seem the most likely option for Lesnar is to remain with the WWE for one more contract. This would let him build up a few more wrestlers before he hangs up his boots for good, and of course make a truck load more money on a very light schedule. Seems like a no-brainer, but if not, let's hope the final months of his storied career give us a few more memorable stop offs at Suplex City.
Writes about sport and stuff. When Evan thinks of a witty comment it will appear here.
Comments are closed.